About Us
Seattle, Washington Pharmacy Profile
Eastern's Pharmacy: Who We Are and What We Offer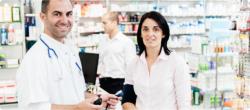 No matter how high the quality of healthcare products may be, they may not reach the individuals that need to take them. This is why we place a great emphasis on the people who will be bringing you your healthcare needs and fulfilling your prescription medication orders.
Eastern's Pharmacy in Seattle, Washington has a staff of detail-oriented and highly capable pharmacists and pharmacy technicians to help you find that prescription that you have been looking for all around. We carefully choose the people we hire to ascertain that the service you get are within or above our set standards.
Our pharmacy staff is very knowledgeable, experienced, and skilled. All our education and all that we learned from experience are translated into action by genuinely helping customers with their health needs. What we know would be useless if we do not apply it by helping you find the vitamins, food supplements, pet medication, medical supplies and other prescription needs. Our pharmacy is defined by how fast and how accurately we can provide solutions for the patients, customers, and healthcare providers we serve.
Eastern's Pharmacy in Seattle, Washington guarantees approachable, knowledgeable, and very cooperative personnel who can help you every time you call and every time you visit our drugstore.
Talk to us now and begin shopping. Call 206-622-6094 or see us face to face when you schedule a pharmacist consultation. Eastern's Pharmacy is always at your service!