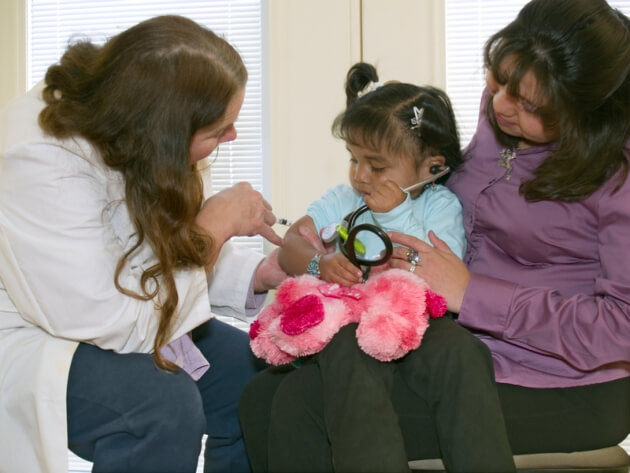 In order to keep your children healthy, you really cannot skip their annual flu shots. For children that have previously experienced vaccinations, by now, they may have presented several reasons to convince you not to go through the same process again. Despite their tearful pleas, you just cannot deny the doctors' orders.
Fear is a sensation that makes a human mind and body go berserk. For children all over the world, seeing a syringe during vaccination shots is an item that usually tops the "most feared things" list. If your child is the type to go wild and cry endlessly before getting the flu shots, you came to the right blog post. Listed below are suggestions on how to calm and ready your child before his/her turn in getting the shot:
Educate them.
Explain to your little angels why there is a need to go to the doctor and receive the annual flu shots. You may use colorful infographics found on the internet to make the learning more fun and engaging. By doing this, they may understand that the pain they are going through is just a small price to keep themselves in tiptop shape.
Condition them first.
Before bringing the kids to the clinic (especially younger ones), put them in their best mood. Make sure that they have plenty of sleep the night before and that they are well fed. Tantrums are usually triggered if children are tired or stressed.
Do not sugarcoat.
Tell them the truth. Do not make promises like it will not sting. Sugarcoating can sometimes be received by a child as "lying". Instead of reassuring them that the process is not painful, tell them instead that they are capable of conquering this fear.
Treat them with compassion.
No matter how dramatic things become with your child, never be mad at them. For them, the fear of syringes can be overwhelming. It is our job as parents to be their security blankets. Never leave their side. Let them feel that you are always there for them no matter what.
Employ distractions.
To calm their nerves from racking, let them play with their gadgets. Giving them a candy bar to chew on is a good idea too.
Promise incentives.
You can use business tactics with children too. In exchange for their consent in getting the shots, promise something exciting for them. A day at Disneyland could be an engaging proposal.
Fulfill the incentives.
A child never forgets a promise, keep yours!
Getting vaccination shots? It is your right to be meticulous in choosing where you are getting it from. If you want the Pharmacy in Seattle you can trust regarding this matter, Eastern's Pharmacyis your best bet.
Getting your medical needs to the pharmacy store back to your house can be too time-consuming. Luckily, Eastern's Pharmacy can offer you fantastic delivery services! To know more about this and the rest of our products, feel free to message us at info@easternsrx.com.