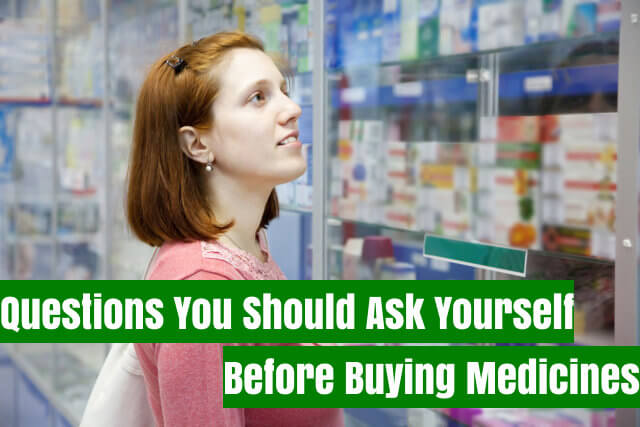 Buying medicines and buying other commodities are two entirely different errands. For one, the latter can provide some allowance for mistakes, the former cannot. This is because an error in the medicines you buy can have a disastrous, even fatal, consequence, whereas the same cannot be said about buying other items.
Having that in mind, a customer needs to consider the following:
Is the pharmacy I am patronizing selling genuine products?

This should occupy the number one spot of factors to consider before buying medications. The stories are endless about customers getting second-rate (or worse, counterfeit) products for the price of the genuine ones. We also hear of tales about patients getting more sickly from taking medicines peddled by fly by night outfits. The reality cannot be farther from the truth, especially now that online businesses are sprouting up around us like mushrooms after the rain.

Our pharmacy in Seattle, called Eastern's Pharmacy, makes sure you are effectively covered on this. We do not only sell unadulterated products, we sell high quality ones. Our product portfolio is being supplied by equally trusted, dependable and reputable manufacturing firms.

Is the pharmacy offering cost-efficient pricing scheme?

We always have this notion that branded, good quality items come with a hefty price tag. It may be true to some, but not true to all. Count Eastern's Pharmacy as one of those that debunk such thinking.

Here at the pharmacy in Seattle, we offer you not only good – but high – quality products at prices you can afford. We are taking note of your economic standing.

Are the personnel expert in their chosen field?

It is not enough that our pharmacists and pharmacy technicians are degree holders. We require more. We see to it that they are experts in the business, meaning they are knowledgeable, skilled and experienced.

The different good experiences and practices, coupled with the theories they learned from school, plus the trainings and upgrading that we are regularly conducting are pooled into a treasure trove of a guide on how we conduct ourselves as we offer our products and services to you.

Are the personnel of the drugstore willing to listen and assist?

Drugstore business can be a tricky affair. It is not enough that you deal with different needs, varying demands and diverse capacities to pay. We have to contend more importantly with assorted personalities and idiosyncracies. As we say, different folks different strokes.

It is important then that we listen and assist. For instance, there is no fixed manner to deal with say, two elderly ladies buying the same medicine for asthma. The factors that we mention above would always come into play. Thus, the need to be attentive and responsive to our customers.

This is one of the parameters that Eastern's Pharmacy considers in hiring its staff.

Is the company tech savvy?

In the age of technological advancements, it is but proper and advantageous that reputable companies utilize the benefits of using computers. Yes, customers should put this on their checklist.

Human resources, no matter how skilled and knowledgeable they are, tend to commit errors. Computers help mitigate such errors. More than that, computerization makes services faster and more accurate.

The pharmacy in Seattle takes full advantage of the gains obtaining from using computers.

Does the outlet offer other related products and services?

Health and medical needs spawn other related requirements. It is important that a particular customer does not need to go to different shops for those needs. Time, resources and effort are of the essence here, most especially if the customer is elderly or not feeling well.

Eastern's Pharmacy keeps that in mind. That's why line up different services to serve that purpose. In fact, we also keep an inventory of medicines for your pets.

Below is the list of our products and services:

Free Prescription Mail Out
Delivery Services
Special Packaging
Auto Refills
Immunization
Pet Medications
Vitamins/OTC
Greeting Cards
Full Espresso Bar
Baked Goods by Seattle's Schwartz Brothers Bakery
Cold Sandwiches by Seattle's Gretchen's Catering
Healthy Snacks and Beverages
Gift Collection
Residents of Seattle area visit us at 515 Minor Ave., Ste. 120 Seattle, Washington 98104 (at Minor and James. If not, call us up at 206-622-6094 or fax us at 206-622-3667. You can also drop us some message at info@easternsrx.com.