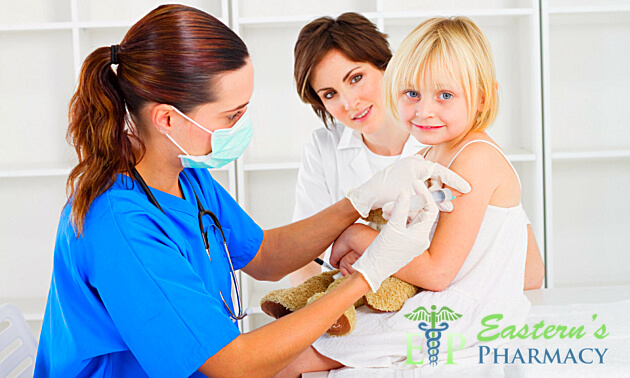 As first-time parents, we want to give the best of everything for our child. On top of our priority list, it would always be their health. Apart from having a competent pediatrician, we also have to give them first class health care including vaccination.
Although vaccination has become an imperative for every child, some parents may have overlooked this part. At a glance, skipping vaccination may not make a huge difference but eventually, it will greatly affect the health and development of the child. With these things in mind, Eastern's Pharmacy, the leading Pharmacy in Seattle, wants to make vaccination accessible to all especially to kids.
Today, on the blog, we will discuss how immunization affects your child's health.
Your child may be susceptible to common diseases
The purpose of having a vaccine is to strengthen the immune system and protect the body from disease. Some of these diseases are:
Influenza- a respiratory disease characterized by having a severe cough, sore throat, and chronic fever. This usually affects babies because they have a weaker immune system and they can readily catch viruses resulting to a cough and fever.

Measles- Some problems of first-time parents are the small red patches that appear on the skin of babies. These measles are caused by bacteria called morbillivirus. The only way to keep our child from this virus is through immunization.

Polio- this immune- related disease have once plagued the country. Many children diagnosed with polio had to suffer all their lives having paralyzed body parts or wasted muscles. Some of the limbs may not be functional because of the inflammation in the muscles done by a virus.
What happens if the child is not vaccinated?
The child concerned will not be the only one affected by the disease related to the immune system. It is possible that they can infest babies as well because measles and influenza are usually transmutable. This could really become a virus revolving around the community if not given immediate action.
If the child has already received vaccine shots, do they still get sick?
Common sickness like a cough, colds, and fever are really unavoidable. It is part of the cycle of the body. Once there are too many toxins and viruses in the body, cough, colds and fever are the usual reaction of the body in order to release the viruses.
However, if you are asking whether your child can still acquire immune-related diseases, the answer is NO. If you only complete the required vaccine shots for the baby, then you can ensure that the baby will be safe from contagious diseases. Generally, that is what's necessary.
For your immunization needs, our Pharmacy in Seattle, the Eastern Pharmacy can cater you with that. We have immunization services and the administrations of these vaccines are done by our pharmacists. With us, you are sure that your child gets the best services and they are handled with care.
For more details, visit www.easternsrx.com or call us at 260-622-6094.
---
Disclaimer
Blogs, content and other media uploaded online are for informational purposes only. Contents on this website should not be considered medical advice. Readers are strongly encouraged to visit their physician for health-related issues.
---