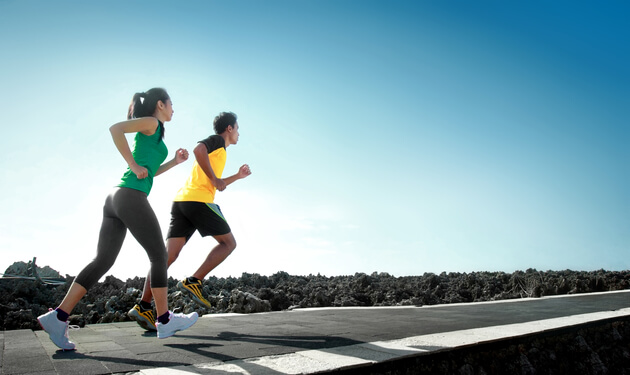 When it comes down to staying healthy, there are an almost limitless amount of things you can do from trying out different kinds of diets, trying health-related products, and more. However, the foundation of good health is exercise.
There are also many different kinds of exercises you can do but none are as basic yet effective as jogging. Here is how jogging can help keep you healthy:
Improved Energy:

One of the main benefits of jogging is an increase in energy. At first, it may not seem like it as you'll be exhausted but the more you exercise the easier it will become. Once you get into a good routine of jogging, you will begin noticing that you have much more energy throughout the day and you are more prepared to tackle whatever the day has planned for you

More Strength:

Jogging will improve your strength. You will probably not see an improvement in how much weight you can bench press but you will definitely see an improvement in how far you can run and how long you can keep yourself going. Regular exercise will make many physical activities easier. You will not have a problem going up and down stairs, walking long distances won't be exhausting, and you will feel much more fit and healthy.

Moods:

Jogging can also help you feel happier. Physical activity causes your body to release endorphins, which are not only a natural painkiller but is also known to improve your moods. When you are feeling down, stressed, or sad, going for a jog can help you feel better.

Mental Health:

Jogging can improve your mental health. By jogging thirty minutes a day you will increase the blood flow and oxygen going to your brain. This can help keep your brain healthy and protect the many parts of your brain. This can also prevent Alzheimer's and dementia as well.
If you are looking for an easy exercise that you can do on a daily basis, then you definitely cannot go wrong with jogging. Still, you need to check with your doctor if this physical activity is advisable for your particular health situation. Take note to never start an exercise routine without getting advice from your physician.
If your doctor gives you the OK to jog, go right ahead and enjoy this physical activity by yourself or with a jogging buddy.
To help make your exercise even more effective, Eastern's Pharmacy is a pharmacy in Seattle that offers a large selection of health-related products to boost your energy and immunity. Stay healthy so you will have the get-up-and-go to jog as frequently as possible. Visit us soon!
---
Disclaimer
Blogs, content and other media uploaded online are for informational purposes only. Contents on this website should not be considered medical advice. Readers are strongly encouraged to visit their physician for health-related issues.
---