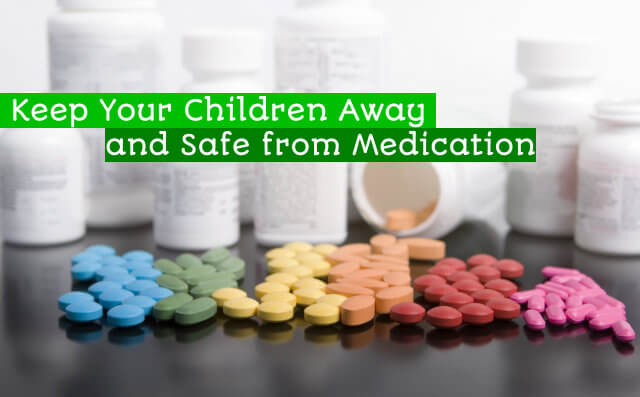 According to the Center for Disease Control and Prevention or CDC, about 60,000 children end up emergency rooms each year because they accidently ingest medicine not meant for them. This is a very alarming number. These ER trips can be avoided if you take proper precaution in storing medication, especially if you have toddlers and kids around. Having medication around the house cannot be avoided since we need vitamins and medicine to feel and stay well. However, any medication, including those you buy without a prescription, can cause harm if taken in the wrong way or by the wrong person.
Children especially toddlers, by nature are playful and curious. They play with anything they get their hands on and put anything in their mouths always thinking its food. When you turn your back even for just a few seconds, you can bet they can get their hands on something they shouldn't be playing with. Just to ensure the safety of your children, here are some tips in properly storing your meds:
Pick a storage place that your children cannot reach and see.
Make sure you put the cap on properly and tightly every time after use.
Educate your children about medicine safety. Teach your children what medicine is and why you or a trusted adult must be the one to give it to them.
Be prepared in case of an emergency. Keep the poison control number handy and visible. Call immediately if you think your child might have ingested some medicine, even if you are not completely sure.
Get a hand on some child-proof packaging.

Eastern's Pharmacy in Seattle

offers special packaging for medication such as child-proof packaging to ensure your children's safety.
Any parent would want to keep their children away from harm. Eastern's Pharmacy in Seattle understands and values this sentiment. Our specially designed child-proof packaging ensures parents that even if their children manage to get a hold of it, they won't be able to get the pills inside the packaging. But even so, extra precaution wouldn't hurt. So take these tips to and ensure the well-being of your children.
For more information about the above-mentioned child-proof packaging or any other pharmaceutical needs and concerns, do not hesitate to contact Eastern's Pharmacy in Seattle. We aim to win your trust and to maintain your confidence in both our services and the pharmaceutical products we offer.