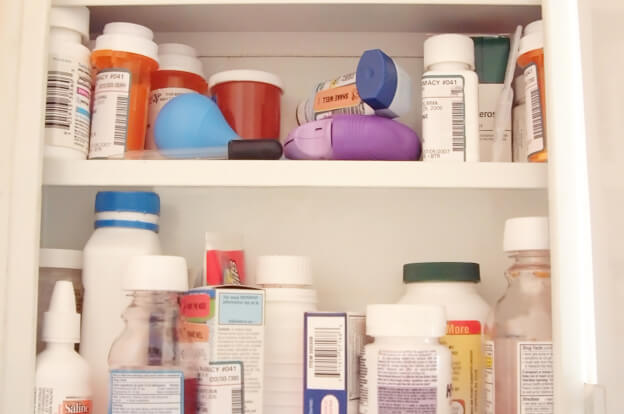 The vernal equinox is just around the corner marking the start of spring, of the season of rebirth. With this transition from cold Winter to breezy but sunny Spring, comes a possible health issue. The change in the weather might be hard for your body to adjust to and may cause you to experience flu and other health issues.
During this time, it is always best to keep your medicine cabinets well-stocked. Regardless of the season, really, one's medicine cabinet at home should be properly filled to ensure that you have the right medicine or medical supply when you need them. It should be noted, however, that the medicine is where you should go to when you are experiencing minor symptoms and health concern. If it becomes severe, then you should head straight for your doctor.
The following items should always be present in your medicine cabinet:
Aspirin

This medicine is still the top resident in a family's medicine cabinet. Aspirin is a painkiller and a fever reducer so people should have this in store. This should be avoided by children and teenagers as large doses might harm the stomach or the liver. In fact, too much intake is linked to the emergence of Reye's syndrome in the youth. So keep it in your medicine cabinet, but follow the designated dosage for you and your family's safety.

Decongestants like pseudoephedrine or henylephrine

Catching colds can be quite a bother. You will not be able to talk well with your clogged nose. You will, sometimes, be affected by sneezing which in turn might transfer the virus to others at home. It is always best to keep your colds under control before it worsens. Always remember that these decongestants contain antihistamines that might make you drowsy so never take this before you go out on a drive.

Antihistamines

An allergy usually presents itself at the most inopportune of times. For this reason, your medicine cabinet should always contain antihistamines. Take note that clemastine and diphenhydramine are known effective ways to relieve sneezing and other allergic reactions. But they may cause you to feel drowsy.

Maalox

Always have this in store especially if you have a family member who usually has acid reflux. Maalox is known to ease heartburn and soothes the esophagus.

Ointment and creams for rashes and skin problems

When you have kids, this item is a must-have as kids can get rashes or bug bites from playing everywhere.

Hydrogen peroxide or any disinfectant

Before applying medicine to a wound, one should first clean it. You can use alcohol to do that but hydrogen peroxide offers less sting.

Band-aid, bandages and medical tape

Cuts, burns and wounds should be secured after it has been cleaned and treated to avoid infection or contamination. It is important to be keep it covered with a quality bandage. Keep bandages of different sizes. Do not forget to have medical tape in stock to hold the gauze or the bandage in place.

A quality digital thermometer
Prepare a checklist now and head to a pharmacy in Seattle that you can trust. Visit Eastern's Pharmacy today.
---
Disclaimer
Blogs, content and other media uploaded online are for informational purposes only. Contents on this website should not be considered medical advice. Readers are strongly encouraged to visit their physician for health-related issues.
---